The New Wave DV V1153 Rugged XMC FPGA Card: Combining Customizable High-Speed Interfaces with FPGA Coprocessing
Built for harsh environments, high performance, and sensitive budgets, the new FPGA-based XMC meets VITA 47 rugged specs and offers custom or pre-configured high-speed serial interfaces along with powerful FPGA coprocessing to speed up and simplify system development.
The new V1153 rugged VITA 42 XMC interface and FPGA processor card introduced by New Wave Design & Verification (New Wave DV) offers users a unique combination of high-speed interfacing modes and powerful application coprocessing capabilities. The V1153 provides multiple high-speed serial interfaces to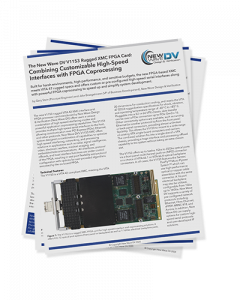 the host, allowing communication over PCI Express (PCIe), Ethernet, and other protocols. New Wave DV's V1153 XMC offers system designers a combination of capabilities to optimize high-speed interfacing, networking, and processing solutions in applications such as radar, signal intelligence, video, electronic warfare, medical imaging, and embedded telecommunications. All interfaces, protocol offloads, and host interface functions are under control of the FPGA, resulting in vast port flexibility and protocol configuration with options for user-provided algorithms executed by the on-board FPGA.