Open Standards Across Military Platforms
By: Pratish Shah, General Manager of Aitech USA
The fundamentals of defense systems are changing. Technology shifts are happening at an unprecedented pace, putting us leaps and bounds ahead of where we have come from, and the electronics and components critical to modern warfare need to keep up with these advancements.
More than ever before, common hardware standards are providing military and defense organizations with streamlined system development and communication, resulting in cost-efficiencies across the board and a unified network of partners working towards a common goal. This article explores some of the up-and-coming as well as time-tested standards that are shaping the future of military communications platforms. (Figure 1)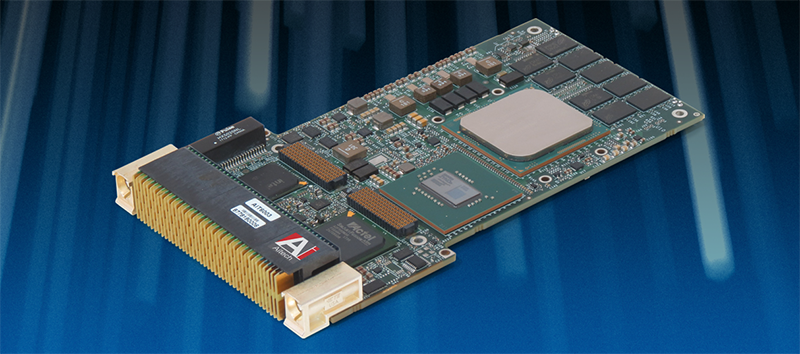 VPX & VME Origins with VITA
Founded in 1984, VITA is an incorporated, non-profit organization of suppliers and users who share a common market interest in critical embedded systems with a mission that focuses on promoting the concept of open technology for critical embedded computing as embodied in the many standards developed or under development within VITA. VITA governs both the VME and VPX specifications.
As the precursor to VPX, the VME standard had a large following in the military and defense electronics community. When system requirements mandated some upgrades to the standard's offerings, VPX was developed as a migration from legacy systems to a more modern architecture that matched the needs of computing systems. Celebrating its 10th year as an approved standard, VPX has also undergone several enhancements and updates that make it a solid, and relevant, platform for many rugged applications today.
Collaboration within Organizations
VPX was chosen as the base specification for the more recent Modular Open Systems Approach (MOSA) open standards initiative put forth by three branches of the U.S. Department of Defense (DoD), which are now collectively managed by The Open Group Sensor open Systems Architecture™ (SOSA) standards, currently in development.
As stated in January 2019 with the Modular Open Systems Approaches for our Weapon Systems is a Warfighting Imperative memo, the SOSA initiative is the de facto platform required for the development of new military technologies. In the past year and a half, it has forged ahead to reshape the future of military defense systems. In this memo, the US Army, Navy and Air Force committed to a common, open standards approach to developing weapons systems to facilitate more rapid development of technologies and to allow for economies of scale across the different defense organizations. To date, more than 100 industry-leading companies are members of the SOSA Consortium, building an ecosystem designed to foster growth and innovation throughout the military and defense community.
SOSA Overview
Building systems to a common platform is not a concept new to military and defense. As noted, SOSA relies heavily on VPX, an already established, and proven, standard used throughout military systems. But what makes SOSA unique is the deep level of involvement, from the DoD down to the connector manufacturers. This thread runs through the Army, Navy and Air Force, not only system-to-system, but across technology platforms, communication boundaries and layers of electronics development.
Being at the forefront of a standard's development is exciting for both member companies and the end users who will benefit. Once implemented, systems and boards developed in alignment with the SOSA Technical Standard will help reduce a number of challenges that have plagued designers of military embedded systems for years:
• Development time as well as time to market
• Cost in development and maintenance
• Integration and interoperability issues
• System sustainability and scalability
The SOSA Consortium truly facilitates technology reuse and enables the expansion of a credible MOSA ecosystem and many manufacturers are building products that address today's industry open standards. (Figure 2)

Software Integration Through the FACE Standard
SOSA is utilizing The Open Group Future Airborne Capability Environment Consortium (FACE) standard to address some software requirements. FACE is an open software environment that promotes application interoperability and portability with enhanced requirements for exchanging data among FACE components and emphasis on defining common application programming interfaces (APIs).
The FACE Technical Standard enables developers to create and deploy a wide catalog of applications for use across the entire spectrum of military aviation systems through a common operating environment.
By integrating several proven industry standards, including ARINC 729, OpenGL and POSIX, the FACE initiative broadens the effectiveness of integrated systems, ensuring systems are safe, secure and reliable, as well as provides a pathway for system to remain compatible in the future.
Software can be built using a set of defined components that enable better integration, more cost-effective upgrades and faster time-to-market, yet maintain a modular structure to allow for easy integration with pre-existing system.
Collaboration Between Government and Industry
Many DoD platforms, from communications, C5ISR, SINGINT, EW and more, used throughout air, ground and sea platforms can better focus on enhancing the functionality of our defense systems, while manufacturers can focus on providing the innovation that accelerates the capabilities for improving system functionality.
Development of open standards ensure that we are building to a common platform that will deliver practical applications of MOSA directives with real benefits to government programs. Companies like Aitech, for example, have been working with open standards for several decades to support the common mission of developing products that help the military to build equipment that improves homeland security, and ultimately saves lives. The communities established within open standards organizations, like The SOSA and FACE Consortia as well as the VITA community, enable technology innovations and advancement that better the industry.
Standards Role in Military Electronics
While the underlying needs of open standards in general are very similar, those developed for military applications do entail different requirements, mainly because "military" is a very broad segment with lots of vastly different application needs. Then layer in the various departments – Army, Navy, Air Force, etc. – each with their own silos of technologies. It's a worldwide problem, notes Jerry Gipper, Executive Director at VITA, as most nations with militaries tend to have similar departments, but using open standards is a good solution to pull some of the diversity together. "As initiatives like The SOSA Consortium continue to progress, the industry will learn how to collaborate faster, because even though the right stakeholders have been coming together, we still need to improve on the speed of collaboration. This is very challenging in the defense industry where we have been building walls for decades."
He also points out that technology change in military electronics is very slow because of the long lifecycles of various applications, but performance improvements are the key drivers; everyone always expect performance boosts, whether it be processing power, bandwidth, or networking.
The continued growth and evolution of open standards proves that this infrastructure is not only wanted, but needed in military applications. As system intelligence evolves being able to focus on technology advancements, instead of tedious issues or interoperability and time to market, will help facilitate better and far more cost-effective military embedded systems.