How Advances in Technology Have Changed the Rugged Device Market
Rugged devices such as Laptops and Tablets have existed in one way or another for the last 40 years and like all other portable technology, over the years they have seen significant advancements.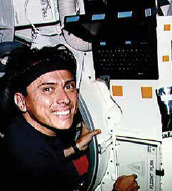 In 1983 GRiD had the opportunity to send one of our original clamshell designed Laptops, the GRiD Compass, into space alongside NASA in the Space Shuttle Columbia. Nicknamed SPOC (no relation to the similarly named Star Trek character, unfortunately) it was modified and ruggedised to be used as a Shuttle Portable On-board Computer (SPOC) for Astronauts to use while in zero-gravity. Utilising a bubble memory instead of the more standard rotating disk, a rugged magnesium casing and a custom, bright orange electro-luminescent display, visible in the brightest sunlight, the GRiD Compass was not only the very first Laptop but also the very first rugged portable device.
As cutting edge as it was during its 10-year lifespan aboard various space shuttles, the GRiD Compass wouldn't be passible for many of the tasks expected of rugged devices in the modern era. Thankfully, over the last 40 years they have progressed significantly with the help of some pretty incredible technology.
With Rugged Laptops and Tablets now utilised across multiple industries and deployed in a wide array of harsh environments, the requirements have become extremely varied and rugged devices have adapted to the needs of this wider audience. So, what exactly have we seen happen to the rugged market since its inception and what can we expect to see as the needs of end users change further over the next 5-10 years?
First, it is important to highlight some of the more prominent changes over the last few years as these advancements will help us to predict what to expect in the future.
Touchscreen Technology
As we have seen in the commercial world, the introduction of touchscreens was a huge move forward, sparking innovation and opening up new realms of possibility in design and functionality for portable devices. Quite frankly, without the introduction of touchscreen technology, the traditional 'Tablet' as is imagined right now would not exist. The key difference is that where as in the commercial world capacitive touchscreens provide adequate functionality for people to scroll through social media or interact with apps whilst they go about their daily tasks, the same cannot be said for the needs of the rugged market. With the rugged market needing extra capabilities, being able to use a device in the rain or with gloved hands for instance, the introduction of resistive touchscreen technology was an important step. Allowing the use of rugged touchscreen devices, no matter the environment.
Power Capabilities
With more diverse requirements coming from end users as rugged devices become increasingly popular, a natural progression in power capability was inevitable. With these more power-hungry requirements has come a trend of making the internals of devices smaller so that engineers can deliver more power without having to increase the size of the Laptop or Tablets themselves. Some companies have gone one step further and now utilise technology such as Hot-Swap Batteries in their units. Providing end users the ability to keep themselves portable and on the move for longer without having to make the 'last minute mad dash' for a charging cable that is far too common in devices we use around the house.
Thanks to smaller, more capable internal components (PCBs, Hard Drives, Processors etc.) it is now possible to create small, lightweight and highly portable devices that have the full power capabilities you would typically expect to see in much larger variants.
Materials
Although most things have changed throughout the years, one design choice, which started in 1982 with the GRiD Compass, has been carried into the modern era of rugged tech. That is the idea of using stronger materials such as titanium, magnesium and aluminium to provide stronger, more rugged and capable casings than the plastic, commercial alternatives provide.
With rugged devices used in more hazardous environments, the unit itself needs to be able to withstand potential drops or knocks without the risk of damage.
It is generally assumed that over the course of its life a typical device will be dropped a total of 5-6 times, alongside a host of other knocks as it gets carried around all over the world. To ensure that their devices can withstand this, manufacturers have begun to put units through a test aptly named the 'Drop, Shock and Topple' Test. A part of wider Environmental testing that qualifies devices to various Military Standards, the Drop, Shock and Topple Test checks how capable a device is and how well it handles multiple drops across each face of the unit.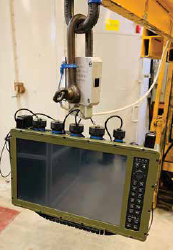 Environmental Considerations
When we talk about "Environment", we are referring to how well a unit operates in extreme conditions including different weather conditions, temperatures, pressures and types of terrain. One notable development is the ability for some devices to withstand submersion in water and still remain useable. Although it might be a generally accepted notion that rugged devices are built to be water resistant it wasn't until recent years that the IP67/IP68 rating became a more widely adopted standard across the rugged market.
Nowadays most Rugged Laptops and Tablets are compliant with MIL-STD-810 and Def Stan 00-35, with compliance to these specifications enabling the devices to be used by military personnel and providing the end user with a guarantee that they are using an extremely capable device that will perform well in most, if not all, environments they take it in to.
On top of the standards mentioned above, special considerations have been taken by some suppliers to provide devices that are qualified for use in TEMPEST and ATEX environments. TEMPEST allows the devices to be used in more sensitive deployments and ATEX in areas where there is a risk of a spark causing an explosion.
Security
With the biggest users of rugged devices being the military and personnel within the defence industry, security has always been a top priority. As such, a lot of research has gone in to developing new security technology for portable devices. One of the standout improvements is having a removable hard drive so that when the device is not in use, the hard drive and all associated data can be removed and stored somewhere safe. Another is the use of Encrypted 2.5" Hard Drives that create extra levels of security in devices through data encryption, ensuring only the intended user can access information. iButton readers, typically separate dongles that allow for device encryption, can now be built in to the unit so that a separate dongle does not have to be carried around with the device, reducing risk of losing the dongle or reduced security from the presence of a USB port.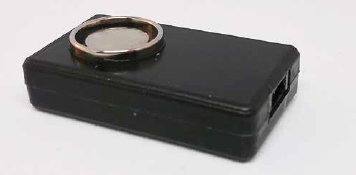 Simplicity
When companies build a product, it is designed with the end user experience in mind and that is no different when it comes the rugged device market. The biggest notable changes here can be put down to one of the following things:
Military Connectors; the use of circular military D38999 connectors instead of standard USB or Ethernet ports allow the devices to fit seamlessly within larger systems without being concerned about weak, unsealed connectors. With no extra considerations having to be made on 'how' a device will interact with other parts, these Rugged Laptops and Tablets provide a quick improvement.
Custom Interfaces; with such a broad range of requirements it is no longer a simple case of providing one system setup and hoping that it works, or worse, forcing the user to adapt their requirement to make it work. Having interfaces specific to project requirements ensures that the device is going to work the way it needs to for the end user every single time it is used.
Embedded Processors and Systems; depending on the project, devices may just be required to perform one task (or set of tasks) over and over again. The addition of embedded processors and systems into Rugged Laptops and Tablets makes this possible and allows engineers or end users to set a device up and have it run, performing the intended task for years at a time without having to do anything else to it.
Throughout the last four decades, there have been a lot of quite frankly, incredible advancements made in technology used in rugged devices and these advancements have created a lot of opportunity to utilise devices in ways that we could never have previously thought of. Even if we were to go back 10 years, a lot of what we can now do would be seen as an impossible task, so we are incredibly excited about the advances we can expect to see in the next decade.
With new technology being developed all the time it is hard to cover everything, however there are a few noteworthy expectations that, like the examples listed above from the last few decades, will drive the rugged device market in the future.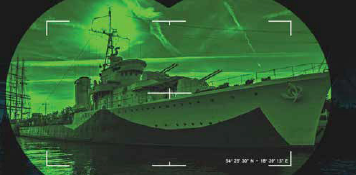 Change in Project Requirements
As with every product or service, developments in the rugged device market are driven by the needs and requirements of the customers and end users. As the needs of the end users change, the design choices made by manufacturers are altered to ensure that they are able to meet these new requirements. There are two main trends driving wider change right now within the rugged market.
Firstly, the shift to devices being used for specific applications. With technology improving, the rugged market can become more specialised and devices developed for singular projects or applications. With this increase in specialisation, end users are going to receive a much better experience while operating devices. They will slot in and out of larger systems with ease and there will be less downtime as they learn the new systems. Although not a specific technological advancement, it represents a larger change in the design of Rugged Laptops and Tablets and will have an overarching effect on how they are built.
Secondly, alongside the shift to specific applications, devices are needed for projects that have a much longer life span. We are often finding that companies are looking for devices they can use for 10-20 years without having to worry about a forced tech-refresh due to obsolescence which can also have a huge impact on software. This long-life need is bringing in small but necessary improvements so that devices are built to last as long as possible, moving further away from any sort of planned obsolescence model present in commercial spaces.
Multi-Touch Resistive Touchscreens
As manufacturers have capitalised on the benefits from using resistive touchscreens over the capacitive variants, the next step is utilising multi-touch resistive technology over standard resistive touchscreens. This new type of resistive technology enables new functionality to be built into rugged devices. Gesture controls such as swiping and 'pinch and zoom' will become a lot simpler and more intuitive, the touchscreen will pick up interactions at multiple sections across the screen allowing for greater use of mapping tools and other specialised software. With the addition of this multi-touch technology the end user experience will be greatly improved while crucially remaining complaint with military standards for EMC, something not possible with capacitive multi-touch touchscreens.
Advanced Displays
To no surprise, the display used in any Laptop or Tablet has a huge effect on the overall usefulness of the device. Although rugged units take a larger number of factors into consideration than commercial alternatives, the display still plays an extremely important part in the decision – it's the main interface after all! That's why the introduction of High-bright and NVG-ready Displays are such a promising concept.
The technology behind these two types of display will allow users to deploy Rugged Laptops and Tablets into a wider array of environments without having to consider whether the display will be readable from either an abundance of sunlight (High-bright) or a complete lack of light altogether (NVG-ready). Currently when operating within ultra-bright environments, areas susceptible to screen glare (such as on-board fast boats) or environments in which NVGs are required, there is a limited choice for devices available. The adoption of these high-tech displays will open up new options to customers.
3D and Augmented Reality
As a greater onus is placed on the safety of soldiers there is a lot of potential around AR and 3D software used for training and simulations. This software will allow soldiers and other end users to run through scenarios in real-time when out in the field, ensuring that the best decision is made with the data available to them rather than using potentially outdated or incorrect information. It will allow for greater detail in mission planning and provide a whole host of other benefits to deployed personnel. As this software becomes more advanced it will be available for use in smaller more portable devices such as Rugged Laptops and Tablets where as it is currently limited to larger systems.
Although the items listed above are just a few examples from a potentially exhaustive list, the next 5-10 years will prove to be incredibly exciting as these technologies are developed and the Rugged Laptop and Tablet market is sure to benefit from each and every advancement.
With the team here at GRiD ready to take full advantage of these technologies and continue to provide the best possible rugged devices; it is a very exciting time to be involved in this industry. If you are interested in seeing what Rugged Laptops, Tablets and Processors we can provide then check out our website. www.griduk.com