The Building Blocks for the future's Wearable
Do you ever need something different?  In today's world where products are built to open standards, company after company are so similar in what they offer that it is difficult to separate those with true innovation.  This year at AUSA Ben Sharfi, Founder of GMS surprised the world with the X9 Spider.  Somehow the word "clever" isn't sufficient in describing how GMS was able to create interconnected building block solutions to address a wide range of applications.
Fitting in the palm of your hand the X9 can be configured specifically to the needs of the application without compromise.  No longer will is there a need to buy features that are not of interest, or compromise finding yourself trapped in an underperforming system.  The X9 is a modular, scalable, distributed architecture that simplifies applications that require rugged high-performance computing, high-definition video, sensor processing, AI, storage, or I/O at the edge.
Ingeniously connected through the use of Thunderbolt, GMS has a patented rugged solution that meets or exceeds many traditional backplane speeds with 40Gbps, with an optional 100W per port power for up/down stream sensors and system expansion.  Designed from the ground up to offer the most compute power and I/O in the smallest, lightest battery-powered package possible, the X9 is perfect for AI implementations supporting situational awareness.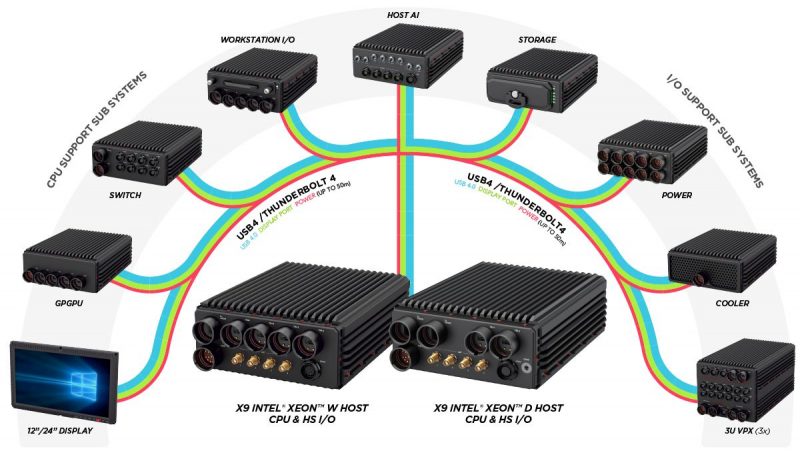 The X9 product family comes with many processing and I/O support solutions off the shelf as well as a platform that can accommodate application-specific features.   Whether it is wearable for feeding fire control solutions or placed in an optional ATR enclosure within a command center the X9 is untethered, yet a connected cloud-like solution that meets the rigors of the environments.
The innovation that GMS has incorporated in their Lightbolt interconnect, will feel familiar to the user as it is based on the Apple Thunderbolt.  Lightbolt moves data via a lightweight and EMI-immune fiber optic cable that neither radiates emissions nor is susceptible to EMI or RFI.  The combination of moving power and data together enables a single power source to manage multiple sensors with a single clean wiring implementation.  GMS has used its genius to improve the connector through the use of a shroud that will secure the connections from being inadvertently disconnected.
The concept of stacking modules for simplicity may remind you of PC/104, but the X9 has unparalleled elegance.   From power distribution to the rail system that couples sensors, GMS has thought of everything with the intent of making system configuration as easy as 1, 2, 3.