SPACE Force A new frontier
An Introduction to Space Force
The Space Force is a new sixth branch of the service that has the mandate to protect the interest of the United States in space and to deter aggression in, from, and to space. Organized within the Department of the Air Force, it was felt that the Air Force was too pre-occupied by its primary goal of air supremacy to put the needed resources forward to manage the challenges of space. Created through a Congressional mandate, funding for Space Force for 2020 was $1.6 billion with more than half going towards three launches done in concert with private partners.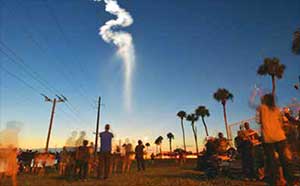 The service has approximately 20,000 airmen and Defense Department civilian employees on a temporary assignment. Commanded by General John "Ray" Raymond, the Space Forceisworkingwith Col. Eric Feltof the Air Force Research Laboratory to create a technology pipeline in cooperation with private industry. This intersection between the technology resources of the Air Force, private industry, and the needs of the Space Force has created resource rich, nimble, and process capable technology pipeline.
commercial satellites. This ability would greatly enhance our ability to communicate in areas where ground or even air-based communications links were prohibited or under great threat.
An example of a forward-looking program that is key to Space Force is a program called PRAM (photovoltaic RF antenna module) that is being done in cooperation with "SPIDER" (Space Solar Power incremental Demonstration and Research, or SSPIDR). The idea is to use the Sun's power to beam power in space. In a recent demonstration of PRAM using an X37 B aircraft, many of the fundamentals were proven, taking the technology one step closer to practical deployment. The ability to beam power could have huge ramifications across many defense and commercial applications.
As with all new things, Space Force has its critics. Those that believe that further expansion to defense spending is not warranted to those that believe that being too close to the commercial industry creates a security risk. Whether you believe these arguments to have merit or not, the demands of space and the potential value of space cannot be left to our foes. The challenges of space domain awareness will lead to advancement in areas such as AI and machine learning. It will assist with connecting and monitoring areas of conflict or natural disasters.
So although Space Force has a modest budget in comparison to the other branches, the need to meet the demands of space will dictate that they remain nimble and partner with many private companies. Although we think of these as Elon Musk's SpaceX or Jeff Bezos' Blue Origin, other technologies from smaller partners will be needed. Advancement surrounding GPS III will enhance positioning, navigation, timing and security, opening the door for many smaller technologies to participate as just one of the many programs moving forward.