Aerodynamics Mandates That Belugas Cannot Fly
EuroLink Systems has developed a breakthrough family of mini-drones deemed Beluga that is configurable and posable to meet the demands of various Industries, target applications and challenging environmental conditions
Eurolink Systems, an Italian Company providing high-end industries with advanced technologies, smart applications and close support services took on the challenge to design/develop a breakthrough drone platform destined to set Industry standards. The Beluga whale, a dominant factor in the ocean, has weight of roughly 1.6 tons, although its speed, grace and sinuous movement are unrivaled.
The Beluga mini-drone is the first member of a heterogeneous family of Uncrewed Solutions designed and produced in Italy.
This endeavor began in 2018 with key design drivers in mind:
To achieve new levels of performance, in terms of, aerodynamic, endurance, speed, platform stability metrics and dependable encrypted communications;
To offer a wide range of customization for payload, sensors, navigation and identification components, like transponders;
To operate over a wide temperature range;
To take off and land in the water;
To set standards for silent system operation within its class of drones ;
To provide on-board computational power hosting Artificial Intelligence algorithms to support Beluga situation awareness, autonomous decision-support and/or to function in a heterogeneous swarm in a nodal or network configuration;
To avoid utilizing Chinese electronic components, which makes the Beluga compliant with current US interests and guidelines.
All of this is accomplished by leveraging Italian culture and ingenuity resulting in the Beluga's unique aerodynamic design and elegance – a clear example of the combination of art and science. After a thorough analysis of component types and specifications available within the US and Canadian markets, the company performed an extensive test program to validate the overall performance of the selected components on a standard, commercially available, multirotor structure before extending this to the Beluga platform.
Based on the test results, it was determined to design a breakthrough platform capable of meeting the key design drivers. The Italian DNA helped the design process by utilizing a powerful approach established by Leonardo da Vinci: Biomimicry.
Mother nature had already designed a structure able to support the key design drivers for the new drone platform family: the Beluga whale. In fact, the large Beluga head with distinctive intelligence is used to host the electronics and on-board processing capabilities. Additionally, the shape of the beluga whale has been adopted to deliver aerodynamic benefits and proven by simulation and wind chamber tests to deliver unprecedented efficiency and performance. Furthermore, based on a requirement from a tender for the North European Army, the platform has been designed with a cargo bay that allows the Beluga to provide "fast service" at 69 mph transporting blood, plasma, vaccine in an operative theater in BVLOS flight. The cargo bay version is another payload to be used on the same Beluga drone.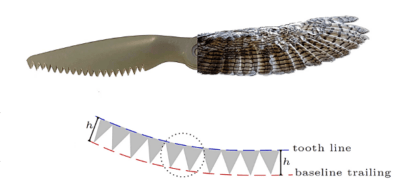 Beluga has uniquely addressed the noise problem consistent with most drone platforms. From real-world, experience with Armies employing operative tethers – drones of this class are often detected by dogs from the sound and spectrum of blade/propeller technology. A key design factor was to achieve "the most silent platform in this mini-drone category." With the support of University Niccolò Cusano of Rome, Italy and an extensive study on techniques to reduce drone noise, this was accomplished. In today's environment, noise is an issue for Urban Warfare, Combat environments, Situation Analysis, Intelligence/Reconnaissance, Urban Air Mobility, U-Space, etc., although the team addressed this challenge for a range of situations including UAM flights. Again, mother nature/biomimicry applied: by allowing us to imitate the "night owl" able to catch the prey thanks to silent flight capability. The secret of the night owl is represented by the soft coating on the belly of the wing, a comb of stiff feathers at the leading edge of the wing and a fringe of flexible filaments at the trailing edge of the wing feathers. EuroLink developed a "digital twin" of that model, which has been translated to the Beluga platform.
Although Aerodynamics mandates that the Beluga cannot fly – Eurolink has managed to make this dream come true and bring a powerful and unique family of mini-drones to meet Industry's demands.
"Instead of reinventing the wheel, we set out to see how mother nature has solved the problem," says Lapiana. In nature, large birds of prey like owls fly silently through the air in order to approach unnoticed: and Eurolink's scientists took owls as a model for developing a unique propeller design that reduces the sound of drone flight.